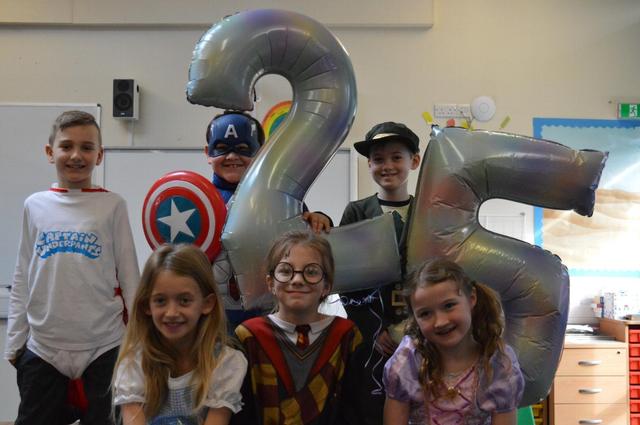 Class 3 Curriculum Letter
Dear Parents/Guardians,
We hope you had a lovely Easter break, the children have settled back in well and are producing some fabulous work and showing ownership of their own learning. We just wanted to write to you and inform you about what the children will be learning for the rest of this term.
Home Learning
Although we do not set written homework, as part of KS2 expectations, we would like your child to read daily, complete the weekly spellings and participate in the times table practise on the Carol Vordeman Maths Factor. This is especially important for Year 4 children as next term they will take the year national times table test. The children also have a weekly spelling test.
Below is an overview of some of the teaching that will be happening in Class 3 this term:
English
This half term we have begun our English learning around narrative poems and the children have loved reading some of them. They've found they are sometimes very gruesome and sometimes very comical. We will continue our learning on this before moving on to exploring and writing auto-biographies. In English, the children will continue to learn and practise appropriate grammar and reading skills. Spelling is a big focus in Key Stage 2 and it can really help improve the structure and flow of the children's work when they spell words correctly. This is why practising spellings at home is important too.
Maths
In Maths, the children have started the term with weighing with accuracy using different types of scales and different units of measure. Please support this learning at home when possible with baking and cooking opportunities. We will redeliver addition and subtraction this term to help children secure their understanding of the methods but to help them further deepen the understanding through problem solving and reasoning. We are practising our times tables daily.
History
This term we are being historians and our main focus is learning about the Anglo-Saxons. We will be exploring their lifestyles, settlements, art work, where they travelled from, inventions and places such as Sutton Hoo.
Science
In Science, we are learning about light. We will look at natural and artificial sources of light, how shadows are formed, reflections and how light travels and bounces of different materials. We will continue to drive the vocab expectations for the children and they will continue to investigate throughout the term in different ways.
R.E
In RE, we are focusing on Salvation. They will also focus on the Christian calendar and look at the Holy week and the meaning behind what happens beyond it.
PSHE
In PSHE, our focus is on relationships and how we can have different relationships with different people and how they change over time. The children will learn how to keep themselves safe around people and how it is important that boundaries with relationships can keep them safe. Exploring how they will have different relationships with their family to their friends to the people they meet at the park. They will develop their conversation skills to help themselves express to friends how they feel and they will look at how to solve problems that occur whilst playing.
Art and DT
In Art, the focus is around modelling and sculpting. The children will learn all about the queen and grenadier guards and they will build a grenadier guard for Friskney Show. They will also build a scarecrow throughout the term to be displayed as part of the scarecrow competition. Children will explore sculpting with clay and other materials.
P.E
This term in PE, the children will be taking part in athletics and practising and refining some skills that will help them towards some sports day events and cricket where they will practising, refining and developing some throwing, catching, batting, fielding and team skills.
Music
In music, we will consolidate the learning that has occurred during the year. All the learning is focussed around revisiting songs and musical activities, a context for the History of Music and the beginnings of the Language of Music. Some of the skills we have focussed on are listening and appraising music, using the voice and musical instruments to perform songs and discuss the compositions of songs.
As always, thank you for your continued support. If you have any questions our door is always open so please do not hesitate to contact us. We are thoroughly enjoying teaching your children thus far this year and seeing the progress they make. We look forward to continuing working with you this year to help your child achieve their potential.
Thank you,
Mrs Carter-Hill and Mr Mills